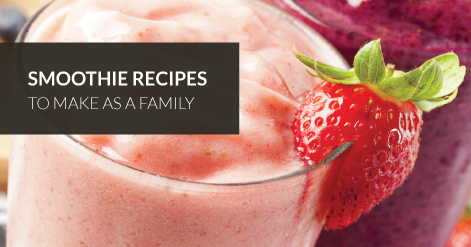 Three Smoothie Recipes to Make with your Family
When you want a cold, sweet treat it can be easy to reach for a big scoop of ice cream. While the delicious delight is good in moderation, ice cream isn't always the healthy choice. The next time you want a nice treat, for dessert or even with your breakfast, try making a smoothie. Getting your kids to help you in the kitchen is a great way to spend time as a family.
In addition to being tasty, smoothies can help you make sure you're getting enough fruit in your diet. The Centers for Disease Control and Prevention has a calculator to help you figure out how many fruits and vegetables you should be eating each day. Enter your age, sex, and activity level to see what you should be including in your diet.
Fortunately, making smoothies doesn't have to be an overwhelming task, and it can be even easier if you have help. Your kids can chop fruit, under your supervision, and add the ingredients to the blender. Plus, teaching kids to prepare meals can help lay the foundation for a lifetime of healthy habits.
Here are a couple recipes available on the National Heart, Lung, and Blood Institute's website.
Summer Breeze Smoothie
Serving size: 3 cups
Ingredients:
1 cup yogurt, plain, nonfat
6 medium strawberries, plus 1 more for garnish
1 cup pineapple, crushed, canned in juice
1 medium banana
1 teaspoon vanilla extract
4 ice cubes
Directions: Place all the ingredients in a blender; puree until smooth. Serve in a frosted glass. For a delectable garnish, make a thin slice in a strawberry so you can fit it on the rim of the glass.
You can find the recipe and nutritional information here.
Mango Shake
Serving size: 3 cups
Ingredients:
2 cups low-fat (1%) milk
4 tablespoons frozen mango juice (or 1 fresh pitted mango)
1 small banana
2 ice cubes
3 tablespoons of sugar, optional
Directions: Blend all ingredients in a blender until foamy.
Instead of mango juice, you can use orange juice, papaya or strawberries to try a different variation of this recipe. To make your smoothie drinking experience a little sweeter, add a coating of sugar to the rim of a fun glass. Find the nutritional information here.
Your smoothies don't have to be all fruit, though. Here's a recipe for one that helps you add some vegetables to your diet.
Green Smoothie
Serving size: 3.5 cups
Ingredients:
2 ripe medium bananas
1 ripe pear, or apple, peeled if desired, chopped
2 cups chopped kale leaves, tough stems removed
1/2 cup cold orange juice
1/2 cup cold water
12 ice cubes
1 tablespoon ground flaxseed
1 slice cucumber, optional
Directions: Place ingredients in a blender. Pulse a few times to break up the large pieces and then puree until smooth. Add some crunch by placing a thin slice of cucumber on the rim of the glass. Check out the nutritional facts here.
For added health benefits, you can add whey protein to any of these smoothies. Follow serving size guidelines that your brand of protein provides on the label. Enjoy your smoothies in a chilled glass and with a colorful straw. You can turn your leftover smoothies into a frozen treat. Pour the smoothies into a frozen pop mold and freeze until firm. Then enjoy – hopefully sitting outside on a sunny day. If none of these recipes fit your palate or your dietary needs, try experimenting to make your own smoothie.
https://thehealthcareresortolathe.com/wp-content/uploads/2015/06/plano-smoothies.png
247
471
admin
https://thehealthcareresortolathe.com/wp-content/uploads/2015/05/olathe-logo4b.png
admin
2015-06-10 23:21:24
2015-06-10 23:25:16
Three Smoothie Recipes to Make with your Family