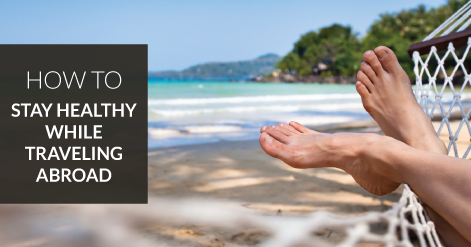 When it comes time to planning your vacation in a foreign country, you're probably focused on the adventures you want to have and the memories you will make.
But anytime you travel, you can't take a vacation from your health. Traveling outside of the U.S. may require even more planning for your health to stay on track.
Here are some helpful tips to make sure you are healthy during your travels abroad.
Before You Leave Your Home
Before you even leave the country, you need to set yourself up to stay healthy during your trip. It's a good idea to start by getting a letter from your doctor in case you are questioned about your medicines, the Bureau of Consular Affairs says, because some countries have strict restrictions on bringing medicine into their borders without the proper documentation. It's very important to pack enough of your prescription medicines to last your trip, and some extras if you are unexpectedly delayed. Keep them in your carry-on bag, in their original labeled containers.
Remember to pack efficiently to avoid hurting your back. Plus, you'll probably want to leave room for some souvenirs! Five days before departure, look at the weather forecast and double-check that your clothes are suitable for your needs. Be sure to always bring comfortable shoes, especially if you're planning on doing lots of walking or running!
Taking care of clothing and prescriptions is important, but it's not the only health consideration you should make before you travel. The CDC says that all international travelers should assemble and carry a travel health kit. A health kit can help you take care of minor health issues or prevent travel-related issues, the CDC says. Your kit should include things to help with pain or fever, upset stomach, and upper respiratory tract discomfort. Bandages, cotton swabs and anti-itch gel are also helpful.
If you are traveling to certain countries you may need to get some vaccines to keep yourself healthy. By checking this State Department resource, you can learn about what vaccines you need, if any. The resource also has information about any alerts or warnings for the countries you may be visiting. The page also includes health considerations and lists the locations of American embassies and consular offices.
It's also important to check if your health insurance will cover you during your travels. If not, the bureau says that you can look into a short-term policy that does. Lastly, you should check with your doctor if you have any conditions that could make it more difficult to travel.
During Your Vacation
No matter how prepared you are, a medical emergency could happen during your trip.
The bureau notes that an American consulate or embassy can help a U.S. citizen find appropriate medical services if a serious illness or injury occurs. Local medical and emergency information is available on the website of the U.S. embassy or consulate.
In some places, the food or water might not be as safe to consume as it is in the U.S. It may not be safe to drink the tap water in the country you are visiting, the CDC says. Uncooked vegetables and unpasteurized milk products should also be avoided, where sanitation is inadequate. Also, steer clear of raw fruits that are eaten unpeeled, like strawberries.
While you're traveling, follow the same healthy habits you would at home:
Always wear a seatbelt when in a car.
Don't forget to protect your skin from the sun.
Watch out for germs – especially in airports.
Carry travel-sized hand sanitizer with you.
By following these tips, you can help make sure that you come back from your travels healthy. Bon voyage!
https://thehealthcareresortolathe.com/wp-content/uploads/2015/06/plano-healthy-abroad.png
247
471
admin
https://thehealthcareresortolathe.com/wp-content/uploads/2015/05/olathe-logo4b.png
admin
2015-06-03 01:46:37
2015-06-03 01:47:32
How to Stay Healthy While Traveling Abroad